Ductile iron pipe
Description
Specification
Standards
Coatings
Process
Packing
Ductile cast iron is kind of alloy of iron, carbon and silicon, in which graphite exists in the type of spherical, generally the size of graphite is 6-7 class, and spheriodization grade of the pipe should be controlled 1-3 class(spheroidization rate is not below 80%). Thus after spheroidization, ductile cast iron possesses the nature of iron as well as the characteristic of steel. After annealing, its microstructure contains ferrite and a little pearlite possessing excellent mechanical properties.
Much of the production of ductile iron is in the form of ductile cast iron pipe, used for water and sewer lines. Ductile cast iron pipe is stronger and easier to tap, requires less support and provides greater flow area compared with pipes made from other materials like PVC, concrete, polyethylene or steel. Ductile Iron Pipe is the most widely-used pipeline product in water supply and water drain/sewage projects.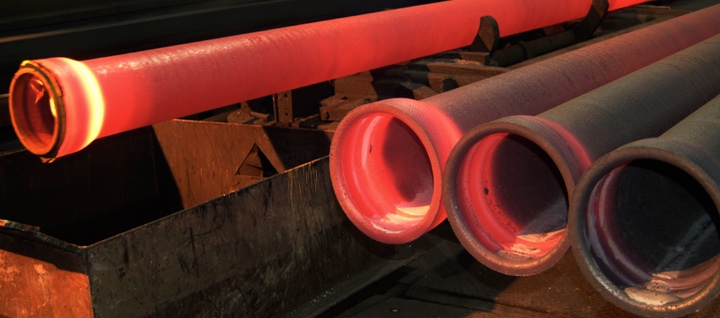 The standard of pipe:
SO 2531, EN545 , EN598.
Pipe class:
K9, C40, C30, C25, etc.
Pipe joint:
push-on joint(Tyton joint), K type joint, self-restrained joint
Effective length:
in general, the pipe length is 6m for bulk shipment and 5.7m for container shipment.
Internal lining:
cement mortar lining as per ISO4179
Zinc coating:
at least 130g/m2 as per ISO 8179
Bitumen painting:
at least 70um as per ISO 8179
Chemical composition (%)
a) C: 3.5 – 4.0b) Si: 1.9 – 2.6c) Mn:0.15 – 0.45c) P: <0.06d) S: <0.02
Mechanical properties:
Tensile strength: ≥420MPab)Yield strength: ≥300Mpac) Hardness: ≤230HBd) Elongation%: DN80 – 1000 ≥10  DN1200 – 2200 ≥7
Process and testing:
a) Induction furnace and treated metal (Chemical analysis of raw material, spheroidizing & Nodularity)b) Casting (Visual check and weight check)c) Heat treatment (Micro structure)d) Hydrostatic test (Pressure test)e) Dimensional checks (Checking pipe length and joint, OD, wall thickness, appearance)f) Zinc spraying (Thickness testing)

g) Lining and coating (100% visual check, thickness testing randomly)

i) Marking and packing (100% visual check)
---
Previous:
Beam
Next:
3003 Aluminum Coils
---
For Potable Water
ISO2531-2009:Ductile iron pipes,fittings,accessories and their joints for water applications.
EN545-2010: Ductile iron pipes,fittings,accessories and their joints for water pipelines requirements and test method.
ISO4179-2005:Ductile iron pipes and fittings for pressure and non-pressure pipelines — Cement mortar lining.
ISO8179-2004:Ductile iron pipes — External zinc-based coating — Part 1:Metallic zinc with finishing layer.
BS 3416:1991:Specification for bitumen-based coatings for cold application,suitable for use in contact with potable water.
ISO4633-2002:Rubber seals — Joint rings for water supply,drainage and sewerage pipelines–Specification for materials.
ISO8180-2006:Ductile iron pipelines–Polyethylene sleeving for site application.
EN681-1 :Elastomeric seals. Material requirements for pipe joint seals used in water and drainage applications Vulcanized rubber.
For sewage application
EN598-2007:Ductile iron pipes, fittings, accessories and their joints for sewerage applications. Requirements and test methods.
ISO4633-2002:Rubber seals — Joint rings for water supply, drainage and sewerage pipelines — Specification for materials.
EN681-1:Elastomeric seals. Material requirements for pipe joint seals used in water and drainage applications Vulcanized rubber.
Chemical composition

Chemical composition

Ductile Cast Iron Pipe (%)

Grey iron pipe (%)

Steel pipe (%)

C

3.5-4.0

3.2-3.8

0.1-0.2

Si

1.9-2.6

1.4-2.2

0.15-0.4

Mn

0.15-0.45

0.4-0.6

0.3-0.6

P

≤0.06

≤0.3

0.02-0.03

S

≤0.02

≤0.1

0.02-0.03

Mg

0.03-0.06
Mechanical Properties

Nominal Diameter mm

Tensile Strength N/m2

Yield Strength N/m2

Elongation%

Hardness HB

Water Pressure Test MPa

≤300

≥420

≥300

≥10

≤230

5

300—600

≥420

≥300

≥10

≤230

4

700—1000

≥420

≥300

≥10

≤230

3.2

1200

≥420

≥300

≥7

≤230

2.5
Corrosion Resistance

90-day Water corrosion(G/cm2)

Corrosion in sea water(G/cm2)

72 hours 5% Hydrochloric acid solution(G/cm2)

Ductile iron pipe

0.009

0.066

0.0821

Ordinary gray iron pipe

0.0103

0.073

0.6899

Steel

0.0396

0.13

≥10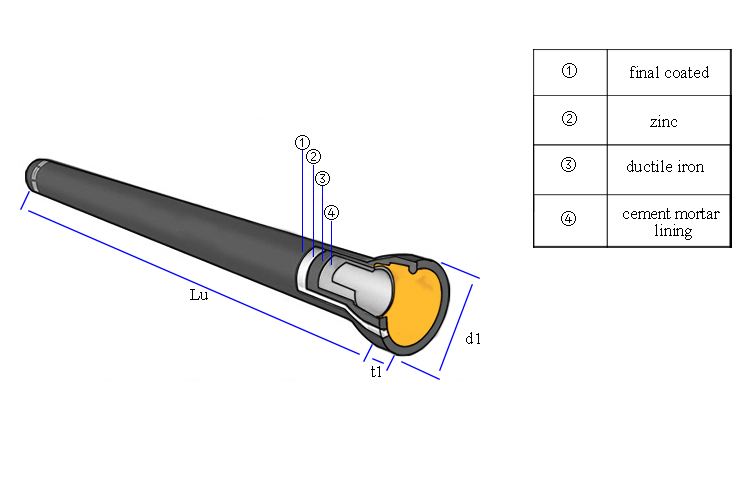 The pipe coating can be customized, such as, zinc-aluminum alloy, PU, etc.
Internal Lining

External Coating

Internal Lining
Pipes and Fittings
External Coating
Pipes and Fittings
Standard Coating
Portland cement or Blast furnace cement mortar
Standard Coating
Metallic zinc + Bituminous paint
Reinforced Protections
High alumina cement mortar
Reinforced Protections
Polyethylene sleeve applied
Special Coatings
Please consult us
Special Coatings
Polyurethane or polyethylene coating or Ceramic
Anti-Corrosion Types:
(1) Asphalt paint coating
The asphalt paint coating is used for conveying gas pipes.
Preheating the pipe before painting can improve the adhesion of asphalt paint and speed up drying.
(2)Cement mortar lining + special coating
This internal anti-corrosion measure is applicable to the pipeline conveying sewage and can improve the corrosion resistance of the inner lining.
(3)Epoxy coal pitch coating
Epoxy coal tar tar coating is suitable for both gas pipeline and sewage pipeline.
It is a two-component coating with high adhesion and a very smooth surface.
(4)Epoxy ceramic lining
Epoxy ceramic lining is suitable for sewage pipeline and gas pipeline, but because of the manufacturing process is difficult and the cost is high, so there are some limitations in the use.
Epoxy ceramic lining is an excellent anti-corrosive coating with high adhesion and finish.
(5)Aluminate cement coating or sulfate cement coating
These two kinds of special cement coating are applicable to the anti-corrosion of the ductile cast iron pipe of sewage pipe and improve the ability of resisting the acid and alkali components in sewage.
(6)Polyurethane coating
It is a new kind of green special coating developed to meet the needs of environmental protection. It has good wear resistance and corrosion resistance.