patubigan
paglalarawan
espesipikasyon
pamantayan
Painting & Coating
Packing & Loading
Proseso: ERW at Walang hirap
Standard: API 5CT
Certificate: Tubing: LTC, STC, BTC, VAM.Tubing: NUE, EUE.
Out Diameter: Pambalot: OD 4 1/2 "- 20" (114.3mm-508mm)
Tubing: OD 2 3/8 "- 4 1/2" (60.3mm-114.30mm)
Wall Kapal: 0. 205 "- 0.635"
Length: R1 (4.88mtr-7.62mtr), R2 (7.62mtr-10.36mtr), R3 (10.36mtr o mas mahaba)
Steel Grade: H-40, J55, K-55, N-80, C-75, L-80, C-90, T-95, T-125
Ibabaw ng: kaagnasan proofing tubig pinturang
End: Beveled, Square cut. And pipe protection cap especially for casing and patubigan.
Heat paggamot: naging normal, Quencher + Temper
Tubing: Tubing ay pipe na ginagamit para sa transportasyon ng langis na krudo at natural gas mula sa isang langis o gas layer sa ibabaw pagkatapos ng pagbabarena ay kumpleto na. Ito ay ginawa sa makatiis ang presyon na nabuo mula sa proseso ng pagkuha. Tubing ay manufactured sa parehong paraan tulad ng casing, maliban sa isang karagdagang proseso na kilala bilang "upsetting" ay inilapat upang maging makapal ang tubo.
---
Nakaraan:
pambalot
Next:
siko
---
haba:
Oil Tubing

Saklaw 1

Saklaw 2

Saklaw 3

6.10 ~ 7.32

8.53 ~ 9.75

11.58 ~ 12.80
Sukat:
etiketa

D Sa labas lapad mm

Wall kapal mm 

C Uri ng end-finish

    1    

2

  NU T & C 

EU T & C 

IJ

H40 

J55 

L80 

N80 1Q

C90 

T95 

P110 

1

2

3

4

5

9

10

11

12

13

14

15

16

1.9

2.75

2.9

2.76

48.26

3.68

PNUI 

PNUI 

PNUI 

PNUI 

PNUI 

PNUI 

-

1.9

3.65

3.73

-

48.26

5.08

PU 

PU 

PU 

PU 

PU 

PU 

PU 

1.9

4.42

-

-

48.26

6.35

-

-

P 

-

P 

P 

-

2 3/8

4

-

-

60.32

4.24

PU 

PN 

PN 

PN 

PN 

PN 

-

2 3/8

4.6

4.7

-

60.32

4.83

PNU 

PNU 

PNU 

PNU 

PNU 

PNU 

PNU 

2 3/8

5.8

5.95

-

60.32

6.45

-

-

PNU 

PNU 

PNU 

PNU 

PNU 

2 3/8

6.6

-

-

60.32

7.49

-

-

P 

-

P 

P 

-

2 3/8

7.35

7.45

-

60.32

8.53

-

-

PU 

-

PU 

PU 

-

2 7/8

6.4

6.5

-

73.02

5.51

PNU 

PNU 

PNU 

PNU 

PNU 

PNU 

PNU 

2 7/8

7.8

7.9

-

73.02

7.01

-

-

PNU 

PNU 

PNU 

PNU 

PNU 

2 7/8

8.6

8.7

-

73.02

7.82

-

-

PNU 

PNU 

PNU 

PNU 

PNU 

2 7/8

9.35

9.45

-

73.02

8.64

-

-

PU 

-

PU 

PU 

-

2 7/8

10.5

-

-

73.02

9.96

-

-

P 

-

P 

P 

-

3 1/2

7.7

-

-

88.9

5.49

PN 

PN 

PN 

PN 

PN 

PN 

-

3 1/2

9.2

9.3

-

88.9

6.45

PNU 

PNU 

PNU 

PNU 

PNU 

PNU 

PNU 

3 1/2

10.2

-

-

88.9

7.34

PN 

PN 

PN 

PN 

PN 

PN 

-

3 1/2

12.7

12.95

-

88.9

9.52

-

-

PNU 

PNU 

PNU 

PNU 

PNU 

3 1/2

14.3

-

-

88.9

10.92

-

-

P 

-

P 

P 

-

3 1/2

15.5

-

-

88.9

12.09

-

-

P 

-

P 

P 

-

4

9.5

-

-

101.6

5.74

PN 

PN 

PN 

PN 

PN 

PN 

-

4

10.7

11

-

101.6

6.65

PU 

PU 

PU 

PU 

PU 

PU 

-

4

13.2

-

-

101.6

8.38

-

-

P 

-

P 

P 

-

4

16.1

-

-

101.6

10.54

-

-

P 

-

P 

P 

-

4 1/2

12.6

12.75

-

114.3

6.88

PNU 

PNU 

PNU 

PNU 

PNU 

PNU 

-

4 1/2

15.2

-

-

114.3

8.56

-

-

P 

-

P 

P 

-
Mechanical Katangian: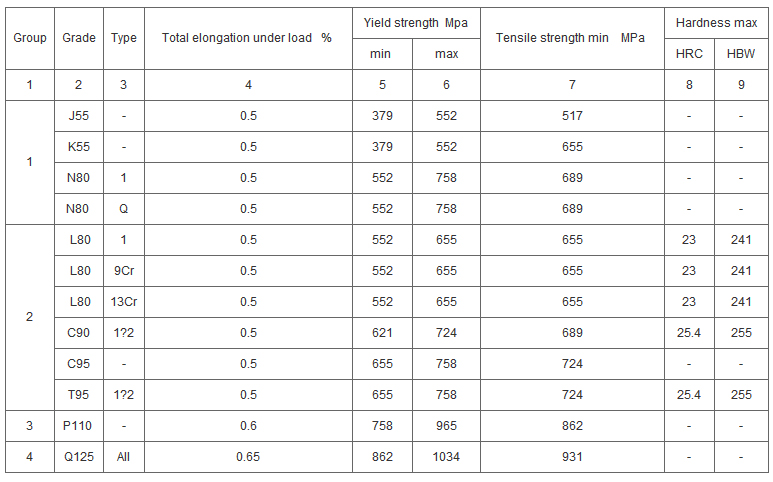 etiketa

D Sa labas lapad mm

Wall kapal mm 

C Uri ng end-finish

    1    

2

 

 

 

 

  NU T & C 

EU T & C 

IJ

 

 

 

 

 

 

 

 

 

H40 

J55 

L80 

N80 1Q

C90 

T95 

P110 

 

 

 

 

 

 

 

 

 

 

 

 

 

1

2

3

4

5

9

10

11

12

13

14

15

16

1.9

2.75

2.9

2.76

48.26

3.68

PNUI 

PNUI 

PNUI 

PNUI 

PNUI 

PNUI 

-

1.9

3.65

3.73

-

48.26

5.08

PU 

PU 

PU 

PU 

PU 

PU 

PU 

1.9

4.42

-

-

48.26

6.35

-

-

P 

-

P 

P 

-

2 3/8

4

-

-

60.32

4.24

PU 

PN 

PN 

PN 

PN 

PN 

-

2 3/8

4.6

4.7

-

60.32

4.83

PNU 

PNU 

PNU 

PNU 

PNU 

PNU 

PNU 

2 3/8

5.8

5.95

-

60.32

6.45

-

-

PNU 

PNU 

PNU 

PNU 

PNU 

2 3/8

6.6

-

-

60.32

7.49

-

-

P 

-

P 

P 

-

2 3/8

7.35

7.45

-

60.32

8.53

-

-

PU 

-

PU 

PU 

-

2 7/8

6.4

6.5

-

73.02

5.51

PNU 

PNU 

PNU 

PNU 

PNU 

PNU 

PNU 

2 7/8

7.8

7.9

-

73.02

7.01

-

-

PNU 

PNU 

PNU 

PNU 

PNU 

2 7/8

8.6

8.7

-

73.02

7.82

-

-

PNU 

PNU 

PNU 

PNU 

PNU 

2 7/8

9.35

9.45

-

73.02

8.64

-

-

PU 

-

PU 

PU 

-

2 7/8

10.5

-

-

73.02

9.96

-

-

P 

-

P 

P 

-

3 1/2

7.7

-

-

88.9

5.49

PN 

PN 

PN 

PN 

PN 

PN 

-

3 1/2

9.2

9.3

-

88.9

6.45

PNU 

PNU 

PNU 

PNU 

PNU 

PNU 

PNU 

3 1/2

10.2

-

-

88.9

7.34

PN 

PN 

PN 

PN 

PN 

PN 

-

3 1/2

12.7

12.95

-

88.9

9.52

-

-

PNU 

PNU 

PNU 

PNU 

PNU 

3 1/2

14.3

-

-

88.9

10.92

-

-

P 

-

P 

P 

-

3 1/2

15.5

-

-

88.9

12.09

-

-

P 

-

P 

P 

-

4

9.5

-

-

101.6

5.74

PN 

PN 

PN 

PN 

PN 

PN 

-

4

10.7

11

-

101.6

6.65

PU 

PU 

PU 

PU 

PU 

PU 

-

4

13.2

-

-

101.6

8.38

-

-

P 

-

P 

P 

-

4

16.1

-

-

101.6

10.54

-

-

P 

-

P 

P 

-

4 1/2

12.6

12.75

-

114.3

6.88

PNU 

PNU 

PNU 

PNU 

PNU 

PNU 

-

4 1/2

15.2

-

-

114.3

8.56

-

-

P 

-

P 

P 

-
Anti-kaagnasan Tubig Batay Paint