Reducer
Description
Specification
Standard
Painting & Coating
Packing & Loading
A steel pipe reducer is a component used in the pipelines to reduce its size from large to small bore in accordance to the inner diameter. The length of the reduction here is equal to an average of the smaller and larger pipe diameters. Here, the reducer can be used as a diffuser or a nozzle. The reducer helps in meeting the existing piping of varied sizes or hydraulic flow of the piping systems.

---
Previous:
Drill Pipe
Next:
Stainless steel plate
---
Pipe Reducer, Reducer Fittings
Steel Pipe Reducers available are of concentric and eccentric types. The pipe reducers are suitable components in pipelines that reduce pipe size from large to small bores. The inlet and outlet ends of the steel pipe reducers and alloy pipe reducers align to a common center line.
The reducers can be made of Carbon Steel, Alloy, or Stainless steel and much more. In comparison to the Stainless Steel Reducer, Carbon Steel Reducer possesses high-pressure resistance, higher strength, and wear resistant but this can be easily corroded.
Carbon Steel Reducer material standards and grades:
A234 WPB, A420 WPL6, MSS-SP-75 WPHY 42, 46, 52, 56, 60, 65 and 70.
 For Stainless Steel Reducer:
ASTM A403 WP 304, 304L, A403, 316, 316L, 317, 317L, 321, 310 and 904L, etc.
For Alloy Pipe Reducer:
A234 WP1, WP5, WP9, WP11, WP22, WP91 etc.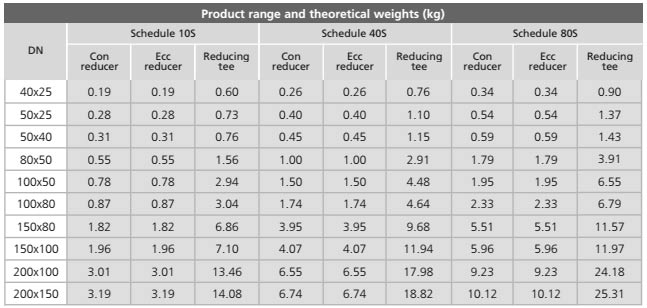 Light Oiling, Black Painting