Alloy Seamless Pipe
Description
Specification
Standard
Painting & Coating
Packing & Loading
OD:6-720MM
WT:0.5-120MM
Length:3-16M
Application:Petroleum, Chemical Engineering, Electricity, Boiler
Standard:ASTM A335/A335M, ASTM A213/213M, DIN17175-79, JIS3467-88,GB5310-95
Material:P5,T5,P11,P12,STFA22, P22, T91, T9,WB36
Alloy pipe is a kind of seamless steel pipe, its performance is much higher than that of general seamless steel pipe, because this type of steel pipe contains more Cr, its high temperature resistance, low temperature resistance, corrosion resistance performance is much better than  other Steel pipe , so the alloy pipe is widely used in petroleum, aerospace, chemical, electric power, boiler, military and other industries.
Product
SEAMLESS / ERW / SAW ALLOY STEEL PIPE
Dimension
6 mm - 1080 mm
Thickness
1mm - 135 mm
Length
3 m - 12 m or according to the requirements of clients
Standard
ASTM GB DIN
Steel grade
A106/53/179/214/192/210 A/B/CST37.2/35.4/35.8/52/52.3/52.4/42/4510# 20# 45#P2, P12, P11, P22, P5, P9, P91T2, T11,T5,T9,T22, 4140, 12CrMo, 15CrMo, 12Cr2Mo, 1Cr5Mo, 2CrMo4, 1Cr9Mo, 10CrMo910, etc.
Trade terms
FOB/CIF/CFR
Payment terms
T/T, L/C
Delivery port
Tianjin, China
Delivery time
10 or according to the real quantity of the tubes
Surface treatment
Black paintingVarnish painting3PEHot galvanizedor other coating according to your requirements

Bare tube

End of tubes
Beveled, plain, thread, plastic caps
Inspection
Ultrasonic examination, eddy inspection, hydrosttic testing etc.
Package
Bundles, loosen or according to your requirements
Certificate
API 5L/5CT, ISO, PED etc.
---
Previous:
ASTM A358 Steel Pipe
Next:
Alloy Welded Pipe
---
Chemical  Composition
| | | | | | | |
| --- | --- | --- | --- | --- | --- | --- |
| C, % | Mn, % | P, % | S, % | Si, % | Cr, % | Mo, % |
| 0.05-0.15 | 0.30-0.60 | 0.025 max | 0.025 max | 0.50-1.00 | 1.00-1.50 | 0.44-0.65 |
Mechanical Properties
| | | |
| --- | --- | --- |
| Tensile Strength, MPa | Yield Strength, MPa | Elongation, % |
| 415 min | 205 min | 30 min |
Outside Diameter & Tolerance
ASTM A450
Hot rolled
Outside Diameter, mm
Tolerance, mm
OD

≤

101.6

+0.4/-0.8
101.6

<

OD

≤

190.5

+0.4/-1.2
190.5

<

OD

≤

228.6

+0.4/-1.6
Cold Drawn
Outside Diameter, mm
Tolerance, mm
OD

<

25.4

±

0.10

25.4

≤

OD

≤

38.1

±

0.15

38.1

<

OD

<

50.8

±

0.20

50.8

≤

OD

<

63.5

±

0.25

63.5

≤

OD

<

76.2

±

0.30

76.2

≤

OD

≤

101.6

±

0.38

101.6

<

OD

≤

190.5

+0.38/-0.64
190.5

<

OD

≤

228.6

+0.38/-1.14
ASTM A530 & ASTM A335
NPS
Outside Diameter, inch
Tolerance, mm
1/8

≤

OD

≤

1-1/2

±

0.40

1-1/2

<

OD

≤

4

±

0.79

4

<

OD

≤

8

+1.59/-0.79
8

<

OD

≤

12

+2.38/-0.79
OD>12
±

1%
Wall thickness & Tolerance
ASTM A450
Hot rolled
Outside Diameter, mm
Tolerance, %
OD

≤

101.6, WT

≤

2.4

+40/-0
OD

≤

101.6, 2.4

<

WT

≤

3.8

+35/-0
OD

≤

101.6, 3.8

<

WT

≤

4.6

+33/-0
OD

≤

101.6, WT>4.6

+28/-0
OD>101.6, 2.4

<

WT

≤

3.8

+35/-0
OD>101.6, 3.8

<

WT

≤

4.6

+33/-0
OD>101.6, WT>4.6
+28/-0
Cold Drawn
Outside Diameter, mm
Tolerance, %
OD

≤

38.1

+20/-0
OD>38.1
+22/-0
ASTM A530
NPS
Outside Diameter, inch
Tolerance, %
1/8

≤

OD

≤

2-1/2

+20.0/-12.5
3

≤

OD

≤

18, WT/OD

≤

5%

+22.5/-12.5
3

≤

OD

≤

18, WT/OD>5%

+15.0/-12.5
OD

≥

20, WT/OD

≤

5%

+22.5/-12.5
OD

≥

20, WT/OD>5%

+15.0/-12.5
ASTM A335–for Seamless Ferritic Alloy-Steel Pipe for High-Temperature Service
ASTM A519–for Seamless Carbon and Alloy Steel Mechanical Tubing
ASTM A213–for Seamless Ferritic and Austenitic Alloy-Steel Boiler, Super heater, and Heat-Exchange Tubes
ASTM ASME (S)A-335/(S)A-335M Grade and Chemical Composition
Grade
UNS
C

≤

Mn
P

≤

S

≤

Si

≤

Cr
Mo
P1
K11522
0.10~0.20
0.30~0.80
0.025
0.025
0.10~0.50
-
0.44~0.65
P2
K11547
0.10~0.20
0.30~0.61
0.025
0.025
0.10~0.30
0.50~0.81
0.44~0.65
P5
K41545
0.15
0.30~0.60
0.025
0.025
0.50
4.00~6.00
0.44~0.65
P5b
K51545
0.15
0.30~0.60
0.025
0.025
1.00~2.00
4.00~6.00
0.44~0.65
P5c
K41245
0.12
0.30~0.60
0.025
0.025
0.50
4.00~6.00
0.44~0.65
P9
S50400
0.15
0.30~0.60
0.025
0.025
0.50~1.00
8.00~10.00
0.44~0.65
P11
K11597
0.05~0.15
0.30~0.61
0.025
0.025
0.50~1.00
1.00~1.50
0.44~0.65
P12
K11562
0.05~0.15
0.30~0.60
0.025
0.025
0.50
0.80~1.25
0.44~0.65
P15
K11578
0.05~0.15
0.30~0.60
0.025
0.025
1.15~1.65
-
0.44~0.65
P21
K31545
0.05~0.15
0.30~0.60
0.025
0.025
0.50
2.65~3.35
0.80~1.60
P22
K21590
0.05~0.15
0.30~0.60
0.025
0.025
0.50
1.90~2.60
0.87~1.13
P91
K91560
0.08~0.12
0.30~0.60
0.020
0.010
0.20~0.50
8.00~9.50
0.85~1.05
P92
K92460
0.07~0.13
0.30~0.60
0.020
0.010
0.50
8.50~9.50
0.30~0.60
Note: (S)A335 P91 other chemical composition are : V 0.18~0.25; N 0.030~0.070; Ni ≤ 0.40; Al ≤ 0.04 ; Nb 0.06~0.10
(S)A335 P92 other chemical composition are : V 0.15~0.25; N 0.030~0.070; Ni ≤ 0.40; Al ≤ 0.04 ; Nb 0.04~0.09; W 1.5~2.00 ; B 0.001~0.006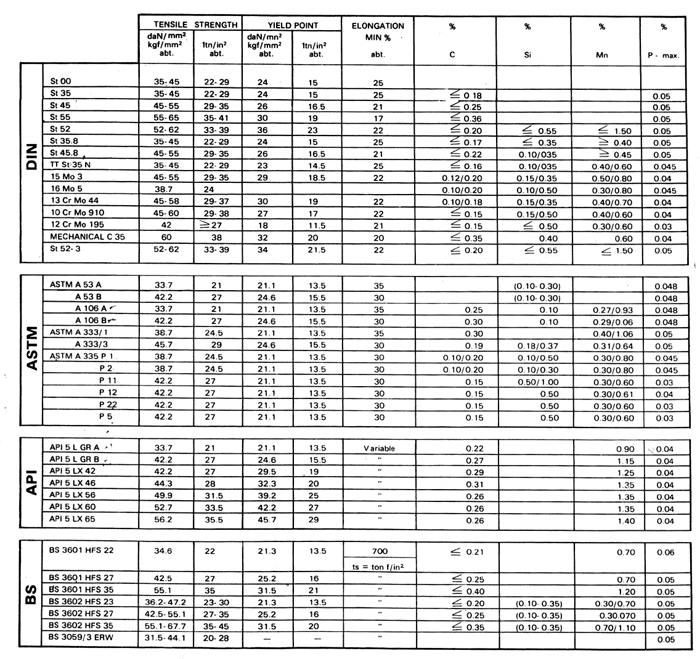 Black coating , oil/varnish ,FBE,2PE,3PE, galvanized etc Packaging Detail: Packing in bundles or for the client's requirement