Titanium standards parts
Description
Specification
Standards
Process
Packing
Production of DIN, ANSI/AMSE, ISO, JIS and other standards and non-standard high-strength titanium fasteners. Usually include bolts, screws, nuts, washers, retaining ring, and various special-shaped pieces. Firstly, we will do the heat treatment, chemical composition testing, mechanical properties testing of titanium bars, titanium plates and other basic materials. After the process of straightening, leveling and polishing, cut into the appropriate size. And then proceed to turning, hot stamping, compression screw, heat treatment, polishing, cleaning, inspection, and a series of procedures, eventually to produce the high quality titanium fasteners. We have the advanced production equipment which ensured our products to achieve the best in each production link.
Our company has a lot of titanium fasteners inventory, which can satisfy the global small amount of orders and those customers with urgent delivery requirement. At the same time, we also provide non-standard products according to drawings provided by customers.
Application
Petroleum, metallurgy, chemical, electronic, pharmaceutical, Marine engineering, auto parts, motorcycle parts, bicycle parts, yacht accessories, outdoor survival supplies, sporting goods and other fields.
Titanium bolt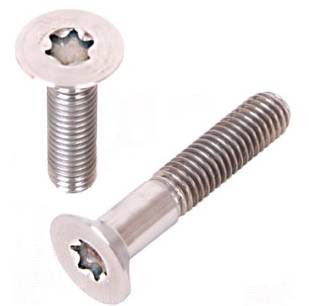 | | |
| --- | --- |
| Product | Titanium and Titanium alloy bolt |
| Size | Diameter: M1.6-M30, Length: 10mm-300mm (0.39″-11.8″) |
| Material | Gr.1, Gr.2, Gr.5, Gr.7 etc |
| Standard | DIN912, DIN6912, DIN933, DIN931 etc |
Titanium hex nut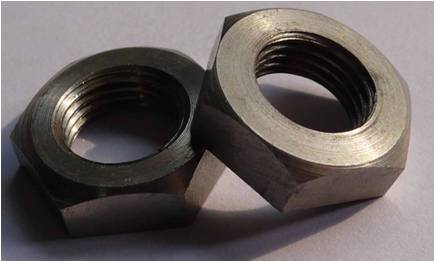 | | |
| --- | --- |
| Product | Titanium and Titanium alloy nut |
| Size | M8-M 80 x 6 |
| Material | Gr1, Gr2, Gr5, Gr7, Ti6Al4V ELI, etc |
| Standard | DIN, ISO, JIS, etc. |
Titanium washer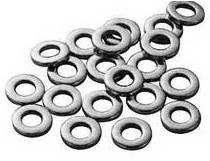 | | |
| --- | --- |
| Product | Titanium and Titanium alloy washer |
| Size | OD: 5mm-200mm (0.20″-7.87″), ID: 1mm-100mm (0.04″-3.94″), Thickness: 0.1mm-30mm (0.004″-1.18″) |
| Material | Gr.2, Gr.5 etc |
| Standard | DIN125 etc |
Titanium screw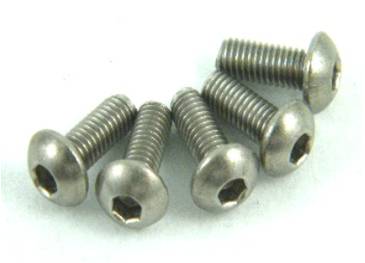 | | |
| --- | --- |
| Product | Titanium and Titanium alloy screw |
| Size | M1 to M42, Length: 10mm-300mm (0.39″-11.8″) |
| Material | Gr1, Gr.2, Gr.5, Gr.7, Gr.12 etc |
| Standard | DIN912, DIN933, DIN84, DIN85, DIN963, DIN7991, DIN6912, DIN931, ISO7380, etc. |
Titanium threaded stud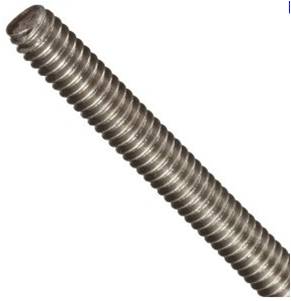 | | |
| --- | --- |
| Product | Titanium and Titanium alloy threaded stud |
| Size | Diameter: M1.6-M30, Length: 10mm-300mm (0.39″-11.8″) |
| Material | Gr.1, Gr.2, Gr.5, Gr.7, Gr.23 etc |
| Standard | DIN912, DIN933, DIN7991, DIN7984, DIN6921, ISO 7380, JIS, BS etc. |
---
Previous:
Titanium Ring
Next:
---

Titanium Hex Bolts Dimensions
 Heavy Hex Bolt Diameter
 D
 F
 C
 H
 Body Diameter  
 Width Across Flats
  Width Across Corners 
 Height
 Max
 Basic
  Max      
 Min       
 Max
 Min
 Basic
 Max     
 Min      
1/2
0.515
7/8
0.875
0.850
1.010
0.969
11/32
0.364
0.302
5/8
0.642
1-1/16
1.062
1.031
1.227
1.175
27/64
0.444
0.378
3/4
0.768
1-1/4
1.250
1.212
1.443
1.383
1/2
0.524
0.455
7/8
0.895
1-7/16
1.438
1.394
1.660
1.589
37/64
0.604
0.531
1
1.022
1-5/8
1.625
1.575
1.876
1.796
43/64
0.700
0.591
1-1/8
1.149
1-13/16
1.812
1.756
2.093
2.002
3/4
0.780
0.658
1-1/4
1.277
2
2.00
1.938
2.309
2.209
27/32
0.876
0.749
1-3/8
1.404
2-3/16
2.188
2.119
2.526
2.416
29/32
0.940
0.810
1-1/2
1.531
2-3/8
2.375
2.300
2.742
2.622
1
1.036
0.902
1-3/4
1.785
2-3/4
2.750
2.662
3.175
3.035
1-5/32
1.196
1.054
2
2.039
3-1/8
3.125
3.025
3.608
3.449
1-11/32
1.388
1.175
2-1/4
2.305
3-1/2
3.500
3.388
4.041
3.862
1-1/2
1.548
1.327
2-1/2
2.559
3-7/8
3.875
3.750
4.474
4.275
1-21/32
1.708
1.479
Hex Nuts Dimensions
| | | | | | |
| --- | --- | --- | --- | --- | --- |
| ISO Titanium Hex Nut NB | Across Corners | MAX Thickness | MIN Thickness | MAX Across Flats | MIN Across Flats |
| M 8 | 14.38 | 6.8 | 6.44 | 13 | 12.73 |
| M 10 | 17.77 | 8.4 | 8.04 | 16 | 15.73 |
| M 12 | 20.03 | 10.8 | 10.37 | 18 | 17.73 |
| M 14 | 23.35 | 12.8 | 12.1 | 21 | 20.67 |
| M 16 | 26.75 | 14.8 | 14.1 | 24 | 23.67 |
| M 18 | 29.56 | 15.8 | 15.1 | 27 | 26.16 |
| M 20 | 32.95 | 18 | 16.9 | 30 | 29.16 |
| M 22 | 37.29 | 19.4 | 18.1 | 34 | 33 |
| M 24 | 39.55 | 21.5 | 20.2 | 36 | 35 |
| M 27 | 45.2 | 23.8 | 22.5 | 41 | 40 |
| M 30 | 50.85 | 26.6 | 24.3 | 46 | 45 |
| M 33 | 55.37 | 28.7 | 27.4 | 50 | 49 |
| M 36 | 60.79 | 31 | 29.4 | 55 | 53.8 |
| M 39 | 66.44 | 33.4 | 31.8 | 60 | 58.8 |
| M 42 | 71.3 | 34 | 32.4 | 65 | 63.1 |
| M 45 | 76.95 | 36 | 34.4 | 70 | 68.1 |
| M 48 | 82.6 | 38 | 39.4 | 75 | 73.1 |
| M 52 | 88.25 | 42 | 40.4 | 80 | 78.1 |
| M 56 | 93.56 | 45 | 43.4 | 85 | 82.8 |
| M 60 | 99.21 | 48 | 46.4 | 90 | 87.8 |
| M 64 | 104.86 | 51 | 49.1 | 95 | 92.8 |
| M 68 | 110.51 | 54 | 52.1 | 100 | 97.8 |
| M 72 x 6 | 116.16 | 58 | 56.1 | 105 | 102.8 |
| M 76 x 6 | 121.81 | 61 | 59.1 | 110 | 107.8 |
| M 80 x 6 | 127.46 | 64 | 62.1 | 115 | 112.8 |
Titanium Flat Washer Dimensions
Ti Alloy Bolt Size

USS

SAE

OD (in.)

ID (in.)

Thickness

OD (in.)

ID (in.)

Thickness

1/8 (#6)
-
-
-
0.375
0.156
.036/.065
5/32 (#8)
-
-
-
0.438
0.188
.036/.065
3/16 (#10)
0.560
0.250
.036/.065
0.500
0.220
.036/.065
7/32 (#12)
-
-
-
0.562
0.250
.051/.080
1/4 (#14)
0.734
0.312
.051/.080
0.625
0.281
.051/.080
5/16
0.875
0.375
.064/.104
0.688
0.344
.051/.080
3/8
1.000
0.438
.064/.104
0.812
0.406
.051/.080
7/16
1.250
0.500
.064/.104
0.922
0.469
.051/.080
1/2
1.375
0.562
.086/.132
1.062
0.531
.074/.121
9/16
1.469
0.625
.086/.132
1.156
0.594
.074/.121
5/8
1.750
0.688
.108/.160
1.312
0.656
.074/.121
3/4
2.000
0.812
.122/.177
1.469
0.812
.108/.160
7/8
2.250
0.938
.136/.192
1.750
0.938
.108/.160
1
2.500
1.062
.136/.192
2.000
1.062
.108/.160
1 1/8
2.750
1.250
.136/.192
2.250
1.250
.108/.160
1 1/4
3.000
1.375
.136/.192
2.500
1.375
.136/.192
1 3/8
3.250
1.500
.153/.213
2.750
1.500
.136/.213
1 1/2
3.500
1.625
.153/.213
3.000
1.625
.153/.213
1 5/8
3.750
1.750
.153/.213
-
-
-
1 3/4
4.000
1.875
.153/.213
-
-
-
1 7/8
4.250
2.000
.153/.213
-
-
-
2
4.500
2.125
.153/.213
-
-
-
2 1/4
4.750
2.375
.193/.248
-
-
-
2 1/2
5.000
2.625
.210/.280
-
-
-
2 3/4
5.250
2.875
.228/.310
-
-
-
3
5.500
3.125
.249/.327
-
-
-
Socket Head Cap Screw Dimensions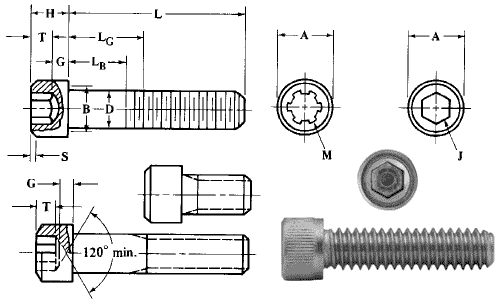 Ti Alloy Screw Nom. Size Thread Pitch

Body
Diameter
D

Head
Diameter
A

Head
Height
H

Chamfer
or
Radius
S

Hexagon
Socket
Size
J

Spline
Socket
Sizea
M

Key
Engagement
T

Transition
Dia.
B

Max

Min

Max

Min

Max

Min

Max

Nom.

Nom.

Min

Max

M1.6 × 0.35
1.60
1.46
3.00
2.87
1.60
1.52
0.16
1.5
1.829
0.80
2.0
M2 × 0.4
2.00
1.86
3.80
3.65
2.00
1.91
0.20
1.5
1.829
1.00
2.6
M2.5 × 0.45
2.50
2.36
4.50
4.33
2.50
2.40
0.25
2.0
2.438
1.25
3.1
M3 × 0.5
3.00
2.86
5.50
5.32
3.00
2.89
0.30
2.5
2.819
1.50
3.6
M4 × 0.7
4.00
3.82
7.00
6.80
4.00
3.88
0.40
3.0
3.378
2.00
4.7
M5 × 0.8
5.00
4.82
8.50
8.27
5.00
4.86
0.50
4.0
4.648
2.50
5.7
M6 × 1
6.00
5.82
10.00
9.74
6.00
5.85
0.60
5.0
5.486
3.00
6.8
M8 × 1.25
8.00
7.78
13.00
12.70
8.00
7.83
0.80
6.0
7.391
4.00
9.2
M10 × 1.5
10.00
9.78
16.00
15.67
10.00
9.81
1.00
8.0

…

5.00
11.2
M12 × 1.75
12.00
11.73
18.00
17.63
12.00
11.79
1.20
10.0

…

6.00
14.2
M14 × 2b
14.00
13.73
21.00
20.60
14.00
13.77
1.40
12.0

…

7.00
16.2
M16 × 2
16.00
15.73
24.00
23.58
16.00
15.76
1.60
14.0

…

8.00
18.2
M20 × 2.5
20.00
19.67
30.00
29.53
20.00
19.73
2.00
17.0

…

10.00
22.4
M24 × 3
24.00
23.67
36.00
35.48
24.00
23.70
2.40
19.0

…

12.00
26.4
M30 × 3.5
30.00
29.67
45.00
44.42
30.00
29.67
3.00
22.0

…

15.00
33.4
M36 × 4
36.00
35.61
54.00
53.37
36.00
35.64
3.60
27.0

…

18.00
39.4
M42 × 4.5
42.00
41.61
63.00
62.31
42.00
41.61
4.20
32.0

…

21.00
45.6
M48 × 5
48.00
47.61
72.00
71.27
48.00
47.58
4.80
36.0

…

24.00
Titanium threaded stud

ANSI /ASMEB 18.31.2 Threaded Rods-Unit:inch
d
pitch
UNC
UNF
8UN
1/4
0.25
20
28
/
5/16
0.3125
18
24
/
3/8
0.375
18
24
/
7/16
0.4375
14
20
/
1/2
0.5
13
20
/
9/16
0.5625
12
18
/
5/8
0.625
11
18
/
3/4
0.75
10
16
/
7/8
0.875
9
14
/
1
1
8
12
8
1-1/8
1.125
7
12
8
1-1/4
1.25
7
12
8
1-3/8
1.375
6
12
8
Unit:inch
d
pitch
UNC
UNF
8UN
1-1/2
1.5
6
12
8
1-5/8
1.625
/
/
8
1-3/7
1.75
5
/
8
1-7/8
1.875
/
/
8
2
2
4-1/2
/
8
2-1/4
2.25
4-1/2
/
8
2-1/2
2.5
4
/
8
2-3/4
2.75
4
/
8
3
3
4
/
8
3-1/4
3.25
4
/
8
3-1/2
3.5
4
/
8
3-3/4
3.75
4
/
8
4
4
4
/
8
| | | | | | |
| --- | --- | --- | --- | --- | --- |
| L | 1/2<L≤2-1/2 | 2-1/2<L≤4 | 4<L≤8 | 8<L≤16 | 16<L |
| Fastened stud length tolerance | ±0.04 | ±0.08 | ±0.10 | ±0.12 | ±0.18 |
| | | | |
| --- | --- | --- | --- |
| Standard | Description | Standard | Description |
| DIN 84 | Slotted cheese head screws | DIN 439 | Jam nuts |
| DIN 125 | Flat washers | DIN 963 | Slotted countersunk flat head screws |
| DIN 127 | Spring lock washers | DIN 965 | Phillips flat head machine screws |
| DIN 912 | Hex socket head cap screws | DIN 985 | Lock nuts (with non-metallic insert) |
| DIN913/DIN 914/DIN915/DIN916 | Set screws | DIN 1665/DIN 6921 | Hex bolts with flange |
| DIN 931 | Hex head cap screws (part thread) | DIN 6912/DIN 7984 | Hexagon socket thin head cap screws |
| DIN 933 | Hex head cap screws (full thread) | DIN 7991 | Flat head countersunk socket cap screws |
| DIN 934 | Hex nuts | DIN 9021 | Flat washer |
Material Equivalent Grades For Titanium Fasteners
| | | |
| --- | --- | --- |
| STANDARD | WERKSTOFF NR. | UNS |
| Titanium Grade2 | 3.7035 | R50400 |
| Titanium Grade5 | 3.7165 | R56400 |
Mechanical Characteristics Of Titanium Fasteners
Grade
Tensile Strength (min)
Yield Strength 0.2% Offset
Elongation in 2 inch or 50mm % (min)

KSI

MPa

KSI

MPa

Gr.1

35

240

20 – 45

138 – 310

24

Gr.2

50

345

40 – 65

275 – 450

20

Gr.3

65

450

55 – 80

380 – 550

18

Gr.4

80

550

≥70

≥483

15

Gr.5

138

950

≥128

≥880

14

Gr.7

50

345

≥40

≥275

24

Gr.9

125

860

≥105

≥725

10

Gr.12

70

483

≥50

≥345

18

Gr.23

125

860

≥115

≥790

15
| | | | | | |
| --- | --- | --- | --- | --- | --- |
| Element | Density | Melting Point | Tensile Strength | Yield Strength (0.2%Offset) | Elongation |
| Titanium Gr. 2 | 4.5 g/cm3 | 1665 °C (3030 °F) | Psi – 49900 , MPa – 344 | Psi – 39900 , MPa – 275 | 20 % |
| Titanium Gr. 5 | 4.43 g/cm3 | 1632 °C (2970 °F) | Psi – 138000 , MPa – 950 | Psi – 128000 , MPa – 880 | 14 % |
Chemical Material Composition Of Titanium Fasteners
| | | | | | | | | | | | |
| --- | --- | --- | --- | --- | --- | --- | --- | --- | --- | --- | --- |
| Grade | Fe% | C% | N% | H% | O% | Al% | V% | Mo% | Ni% | Pd% | Ti |
| Gr1 | 0.2 | 0.08 | 0.03 | 0.015 | 0.18 | — | — | — | — | — | BAL. |
| Gr2 | 0.3 | 0.08 | 0.03 | 0.015 | 0.25 | — | — | — | — | — | BAL. |
| Gr3 | 0.3 | 0.08 | 0.05 | 0.015 | 0.35 | — | — | — | — | — | BAL. |
| Gr4 | 0.3 | 0.08 | 0.05 | 0.015 | 0.40 | — | — | — | — | — | BAL |
| Gr5 | 0.25 | 0.08 | 0.03 | 0.015 | 0.02 | 5.5 – 6.75 | 3.5 – 4.5 | — | — | — | BAL |
| Gr7 | 0.3 | 0.08 | 0.03 | 0.015 | 0.25 | — | — | — | — | 0.12 – 0.25 | BAL. |
| Gr9 | 0.25 | 0.08 | 0.03 | 0.015 | 0.15 | 2.5 – 3.3 | 2.0 – 3.0 | — | — | — | BAL. |
| Gr12 | 0.3 | 0.08 | 0.03 | 0.015 | 0.25 | — | — | 0.2 – 0.4 | 0.6 – 0.9 | — | BAL. |
| Gr23 | 0.3 | 0.08 | 0.03 | 0.015 | 0.13 | 5.5 – 6.75 | — | — | — | — | B |